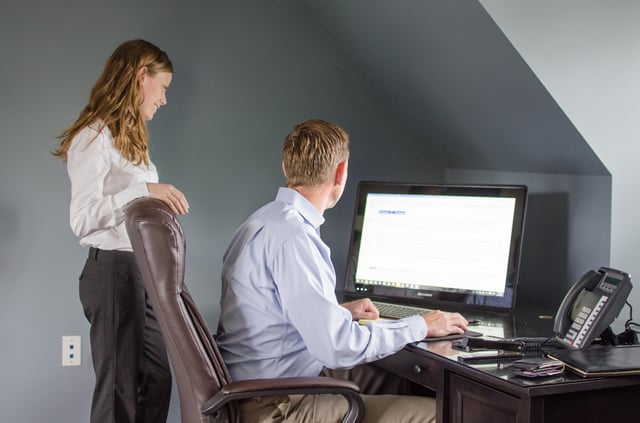 When you picture meeting with you financial advisor, what do you see?
There used to be one picture that came to mind - a conference room, a whiteboard, a man in a suit. But today your vision can, and should, vary. While meeting in person is preferential, or even nevessary, it is not your only option. A virtual financial planner can be just as effective, and may come with some added benefits.
Your virtual financial advisor works remotely, which means they have to be connected most of the time. An advisor who is connected and works virtually is often more responsive and quick to respond to your questions. She is never "out of the office" for long periods of time and will respond during typically off hours: nights, weekends, while on vaction, etc.
Working with a virtual financial advisor can also save time and money. There are less overhead costs for you and your advisor. There is no need to schedule a meeting, take time off work, and drive to your advisor's office. This will save both of you time and reduce the need for office space, which can translate in to cost savings for you as the client. You wont get nickle and dimes for every question you ask. It's all factored in to your cost. Your virtual financial planner serves his clients best by being connected and responding promptly.
Also, because he'll work creatively to make sure he can connect with clients all over the country, his toolbox is vast. At JSK we don't limit ourselves to one mode of communcation, and neither should you. We know that clients are also on the go; many travel for work or have second homes. They don't want to wait for a meeting. They appreciate that we'll use text, email, phone, video calling, screen sharing, etc. Providing virtual financial services in addition to traditional financial services makes us more agile and in tune with our clients needs. We understand that today's technology makes you expect instant gratification and answer now.
We have clients that enjoy meeting in person, and that's great too. I enjoy seeing their faces and their home, and meeting their families, and sometimes they too prefer virtual financial services. They want to be able to meet with me every so often, but get a ping back when they have a quick question too.
Taking advtantage of virtual financial services and getting financial advice online means you can find a Fiduciary who is the right fit, rather than the right distance from your house.
It means you can do your research and connect with the right financial advisor, whether they are down the street or a virtual financial planner. Are you convinced?
Not only is the way we provide advice changing, but the advice itself is changing. An advisor who work virtually and is accessible does more than just talk about asset allocation and market returns. She talks about refinancing, taxes, insurance, wills, trusts, education, and much more.
Whether you're ready to commit to using a virtual financial planner or you are just doing some research on whether it's possible, the next thing you should do is check out our guide on How to Pursue a Better Investment Experience. You'll get access to specific advice on making your experience better and you might just enjoy the process.