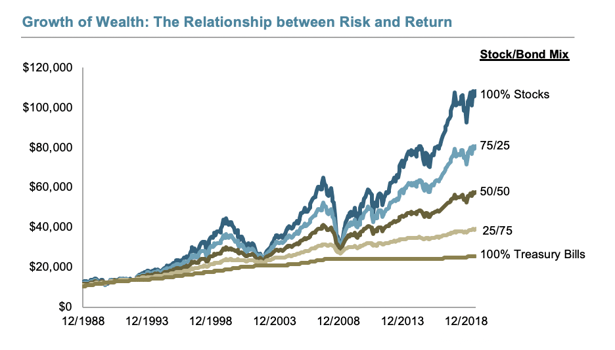 Looking at broad market indices, US equities outperformed non-US developed and emerging markets during the third quarter. Value stocks outperformed growth stocks in the US, but underperformed in non-US and emerging markets. Small caps outperformed large caps in non-US markets but underperformed in the US and emerging markets. REIT indices outperformed equity market indices in both the US and non-US developed markets.
As we look back over the last quarter, the overall theme in the news has remained consistently negative. Headlines remain focused on a trade deal with China, tariffs, recession, interest rates, Brexit and now an impeachment inquiry has been added to the list. Despite the negative headlines, the U.S. stock market overall remain positive for the quarter and year to date, which demonstrates news headlines do not necessarily correlate with stock market returns and we should view daily headlines and events with a long-term perspective and avoid making decisions based on this information.
A successful investment experience comes from controlling what you can, keeping costs low, managing taxes, diversifying, and having a strategy consistent with your overall risk tolerance and communication.
To learn more about market performance in Q3, download our review here.