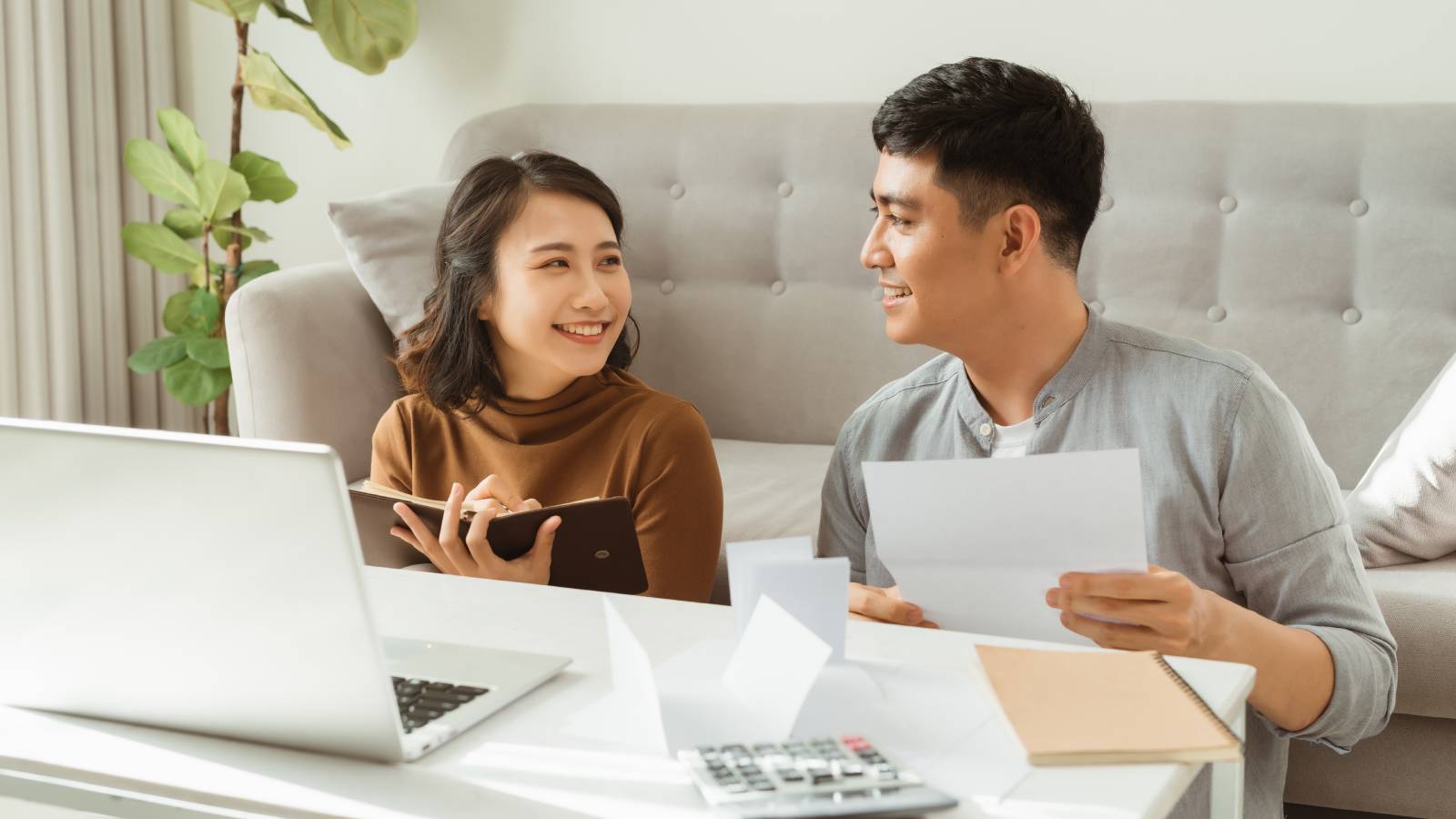 Every day, you make small decisions that impact your financial future in one way or another. However, it's also crucial to set long-term financial goals to guide you toward wise choices that will enable you to create the life you desire in your later years. Knowing your objectives and writing them down helps keep them top of mind as you make decisions about saving and spending your money.
In this article, we'll share 11 long-term financial goals examples to get you thinking about creating your own goals-based financial plan. We'll also offer tips to help make the process of reaching your objectives smoother, and an inspiring real-life story of a couple who realized one of their dreams.
4 Tips For Achieving Your Long-Term Financial Goals
Four in five Americans lack basic knowledge around retirement planning. This number can make the prospect of reaching your future objectives seem like a challenge, but by focusing on your long term goals, you can gain the knowledge and skills you need to reach them.
Settling debts in the here and now may be taking immediate priority over saving for the future, but that doesn't mean you should toss out any hope of achieving long-range life goals. Below are a few helpful tips you can follow to make sure you address all your financial goals, both short- and long-term.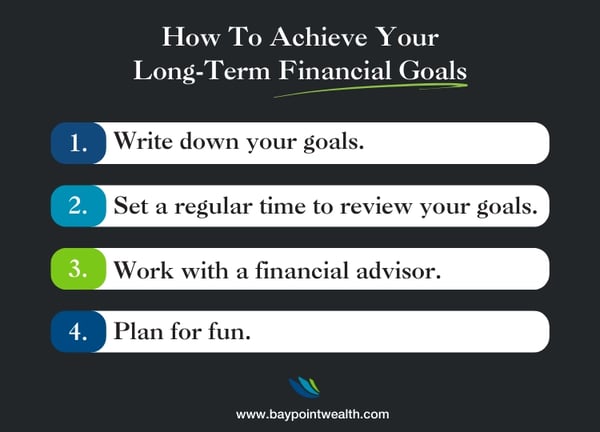 1. Write down your goals.
Setting measurable goals for yourself or your family is one of the top wealth-building habits you can adopt. Be specific about your objectives and the timeframe required to achieve them. Clearly outline the steps you need to follow so you can assess your success later when the time comes to review your progress.
Once you've determined how much money you must save to reach your long-term financial goals, this figure should become part of your budget. If you're married, go through the goal-setting and budgeting process with your spouse and have an open conversation about what is important to each of you. Your plan will be stronger if you work together.
2. Set a regular time to review your goals.
Review your long-term financial goals monthly to keep them top of mind. Track your progress to see whether you're spending money on things that take away from your ability to reach your objectives. Life is always changing, and you need your budget to keep up. This is another reason to do a monthly financial review.
Going through the review process with your family will give you an opportunity to hold each other accountable for your spending, as well as to celebrate your wins. Regular communication will also help keep your family on the same page about your collective financial goals.
3. Work with a financial advisor.
Seeking expert advice can give you valuable insight into which kind of long-term financial goals are reasonable and achievable for you. An objective third party can also take emotion out of the financial planning process and put you at ease if you have worries or concerns. In addition, a financial advisor will help you stay disciplined and stick to your plan.
Financial advisors are well-versed in the best savings and investment accounts to use based on your specific goals—and how to maximize your wealth. They'll read your employee benefits package in detail, including the fine print of your 401(k) plan, to ensure you're leveraging all the perks offered by your employer. They'll also help you take advantage of changes in your tax bracket.
4. Plan for fun.
Think of your financial plan like a diet: If it's too restrictive, you won't be able to stick to it, so be sure to budget for things you enjoy. One of the main purposes of financial planning is to live the life you want, even as you save for mid- and long-term goals. It's important to make the most of every season in life as best you can.
11 Long-Term Financial Goals Examples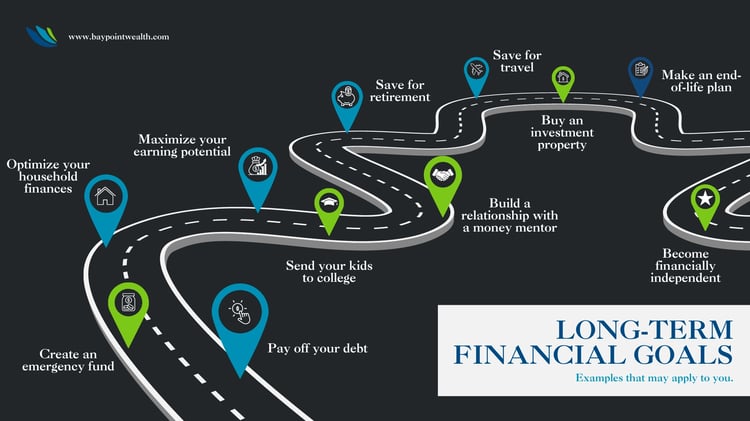 The path to achieving financial stability doesn't look the same for everyone, but there are certain benchmarks along the journey that are common. Review the below long-term financial goal examples to see which ones apply to you (or create your own!), and resolve to tackle them one at a time, in order of priority.
1. Pay off your debt.
Debt is an example of a long-term goal that's relevant to many Americans. A good approach is to prioritize paying off your debt based on interest rate. For example, your mortgage will likely be the last debt you're concerned about, whereas you should tackle credit cards right away, then student loans, and then car loans.
Online calculators like this one from NerdWallet can help you figure out how to best pay off your debt. Focus on the debt with the highest interest rate first and pay a minimum amount on all your other debt. Once you pay off your primary debt, put all of the money that was going toward it to the next one.
2. Create an emergency fund.
While saving three to six months of your expenses is ideal, this can be a big hurdle to clear. You may only be able to save a portion of this money while paying off your debt. However, if you're a homeowner, you can use a home equity line or your home insurance to cover your expenses in a true emergency—you'll just need to pay your deductible.
Spend time thinking about the kinds of emergencies you need to save for, whether that includes car trouble or potential medical bills. This will help you gain a clearer picture of the amount you need to save.
3. Optimize your household finances.
Behavioral change is central to successful financial planning. Once you've tackled your credit card debt and built up an emergency fund, the best way to optimize the finances for your household is simply to rely on tried-and-true methods like living below your means.
Getting clarity on the money flowing in and out of your household is the first step. Oftentimes, this means becoming aware of any hidden fees you've been paying, which aren't usually obvious to the average investor or consumer. For example, there are fees associated with everything from your 401(k) to your mutual funds, and the latter can sometimes cost you five or 10 times the amount of a similar mutual fund.
4. Maximize your earning potential.
Reaching a higher level of compensation is a common long-term financial goal for many Americans. You can get started by making sure that your knowledge and skills are not only up to date, but at peak performance. Regardless of whether you stay with your current employer, taking this approach means you'll be building your own book of skills, which is hugely valuable when it comes to your earning potential.
The other way to maximize your earning potential is by knowing your worth and mastering the art of negotiation. Get a good understanding of what people in your field with your level of experience are being paid, then be prepared to advocate for yourself. This is exactly what one of our clients did. She's increased her income by 210% over the last two years simply by knowing her worth and advocating for the salary she deserved.
5. Send your kids to college.
Catching up on saving for college can be challenging if you wait too long to get started, making it an example of a long-term goal worth working toward. Getting an early start and using the right type of savings account is key. There are four common accounts for saving for college, including 529 plans, Education Savings Accounts (also known as Coverdell IRAs), Custodial Accounts, and Prepaid Tuition plans. They each have different benefits and limitations. An advisor can help you choose which is best for your family.
Decide how much money you want to put aside for your children's education, and don't feel obligated to save for 100% of the costs or send them to an Ivy League school. Involve your kids in the conversation and discuss various options with them, as well as the costs of each one. It's perfectly fine for your children to bear some of the financial responsibility for their education. And remember, don't borrow from your retirement fund to send your kids to college.
6. Build a relationship with a money mentor.
The first stage of most people's relationship with money is based on what they learned from their parents or guardians. People repeat patterns, and while some of these learned behaviors are positive, you may also need to change your default model and evolve your relationship with money. For example, when we work with clients who grew up with enough money saved but never heard about investing from their parents, those clients often feel like their work is finished once they've created an emergency fund. It's our role to help expand their horizons. This is also what a money mentor can do for you.
Selecting the right money mentor is key. There are a lot of well-meaning folks out there who give less-than-stellar advice, so be mindful of who you're listening to. Your money mentor should be someone whose relationship with money you admire. The best mentors are passionate about money and are always educating themselves. They don't necessarily need decades of experience, but they do need knowledge and designations, or a clear understanding of what has worked well in their personal life.
7. Save for retirement.
You should be able to put at least 20% of your net income aside for retirement. This may seem like a lot, but as life expectancies increase and pensions become more scarce, it's important to ensure you'll have enough money to support you in your golden years.
A financial advisor can help you figure out how best to save. For example, after you max out your 401(k), you may be eligible to make after-tax contributions, which many people don't know is an option. If your 401(k) plan also allows you to convert those after-tax contributions to a Roth IRA, you can avoid paying taxes on the earnings of those contributions.
8. Save for travel.
Saving for travel or other leisure activities you enjoy is an example of a long-term goal that makes life richer. (Pun intended!) If you're really looking forward to a trip or another event, even though you may need some time to save, and it's more than what your budget normally allows, it's worth your while so you can look back on the memories.
9. Buy an investment property.
An investment property can provide you with an income stream that you continue to own after your mortgage is paid, acting as another asset in your retirement plan. If need be, you can also borrow against an investment property to help cover large expenses like college tuition. However, before you set your sights on this lofty of a goal, it's important to have covered your financial basics, including paying off debt and creating an emergency fund.
10. Make an end-of-life plan.
Anyone over the age of 18 should be thinking about what would happen to their assets if they passed away. In our experience, the term "estate planning" tends to throw people off, and folks 40 and under often don't feel it applies to them. Most clients would rather reduce their budget than think about end-of-life planning! However, this is a necessary evil if you want to ensure your family can still achieve your long-term financial goals even in your absence (or incapacity). So take the time to make your wishes known and work with an attorney if your situation is on the complex side.
11. Become financially independent.
We've saved the best for last. This long-term financial goal is on just about every client's list. We define it as a point where work becomes optional. Freedom, flexibility, and options are a few of the words we hear from our clients when they talk about becoming financially independent. Maybe you're even looking to build generational wealth. To accomplish the goal of financial independence, you need to think about the timeline within which you want to reach this state, and the streams of income you'll need to support you.
Setting-Long Term Financial Goals: 3 Common Questions
If you're like many of our clients, you might have some questions right about now. Here are the most common ones we get asked, and the answers to help guide you.
Is setting long-term financial goals even worth doing when there's so much uncertainty in my future?
We hear this most often from younger clients. Maybe you're trying to decide whether to go back to school, or thinking about starting or expanding your family. Or perhaps you're feeling burnt out at work and don't know whether you can afford to take the less-stressful lower paying job? This is when financial advisors can be most valuable—when you are flooded with uncertainty. The key is to lean on your financial advisor as a partner in the process and have them answer the big question for you.
How do I balance my priorities in the now vs. saving for the future?
People often have competing priorities, like trying to save for both your child's education and your retirement. The solution? Make a chronological priority list. You can still focus on what matters now while acknowledging what the next step will be and working toward it in a small way, like investing a little for your retirement to take advantage of compounding interest, then ramping up your contributions once the cost of education is covered.
What type of career changes can I make?
People often don't realize this is a conversation they should have with their financial advisor. We worked with a client who is an attorney and left the private sector to work for a nonprofit. She and her husband wanted to know if he could make a career change by leaving his job and staying home with their baby for six months. We used financial planning to determine whether, if they made this change, they'd be comfortable retiring two years later—or if they could tighten up their budget instead and still retire on time. Your financial advisor can provide the information you need to make these kinds of decisions.

Real-Life Client Story: Dreaming Of Paris
Traveling to Paris isn't an uncommon goal. But for one couple, whom we've been working with for five years, it wasn't merely a goal—it was literally a life-sustaining future vision...
Each time they talked about their dream trip with us, we noticed a shift in their energy—this was clearly a goal that meant a lot to them. What we discovered was both inspiring and humbling. The wife was diagnosed with ovarian cancer at 32 years old. Her diagnosis looked grim and she was having trouble imagining the future, or whether she would even have one. But her end-of-life therapist told her that what could see her through this dark time was, in fact, picturing her future.
She struggled with this exercise for weeks until one day she thought about her nieces. They were three and five years old at the time, and she and her husband wanted to be the fun aunt and uncle who take the girls to Paris one day. This was her guiding light through her illness. As such, they continued prioritizing it and they made sacrifices to ensure they could realize this dream.
When our client hit her 10-year cancer-free mark, they embarked overseas to Paris. And gave the girls a trip of a lifetime. Our client now has two more nieces, and she and her husband are already looking forward to the next trip. In her words, "Cheers to science, medicine, and great financial planning!"
Get Guidance On Your Financial Goals
At Bay Point Wealth, we know that financial goals often carry deep meaning for our clients. That's why we bring the utmost level of care to our client relationships. We'll craft a plan for your financial future by deeply understanding your goals and then exploring different scenarios to help you reach them. Schedule a call with us today to find out how we can put our comprehensive financial planning expertise to work for you.