The financial markets have plunged this week over fears about the spreading coronavirus, erasing gains from earlier this year. After the Dow lost over 1200 points on Thursday, it was down nearly 13% off its recent high.
Investors are understandably nervous about their money and their health. If you are worried about your portfolio, you're not alone. But during stock market volatility, it's important to keep a level head to avoid financial mistakes.
Stay Calm
At times like these, it's important to put current conditions into perspective. This is not the first time the market has taken a tumble from recent highs and it won't be the last. Declines in the Dow Jones Industrial Average are fairly regular events. In fact, drops of 10% or more happen about once a year on average. The stock market is a risky place to invest and ups and downs should be expected. If it were not risky, it would not deliver higher expected returns.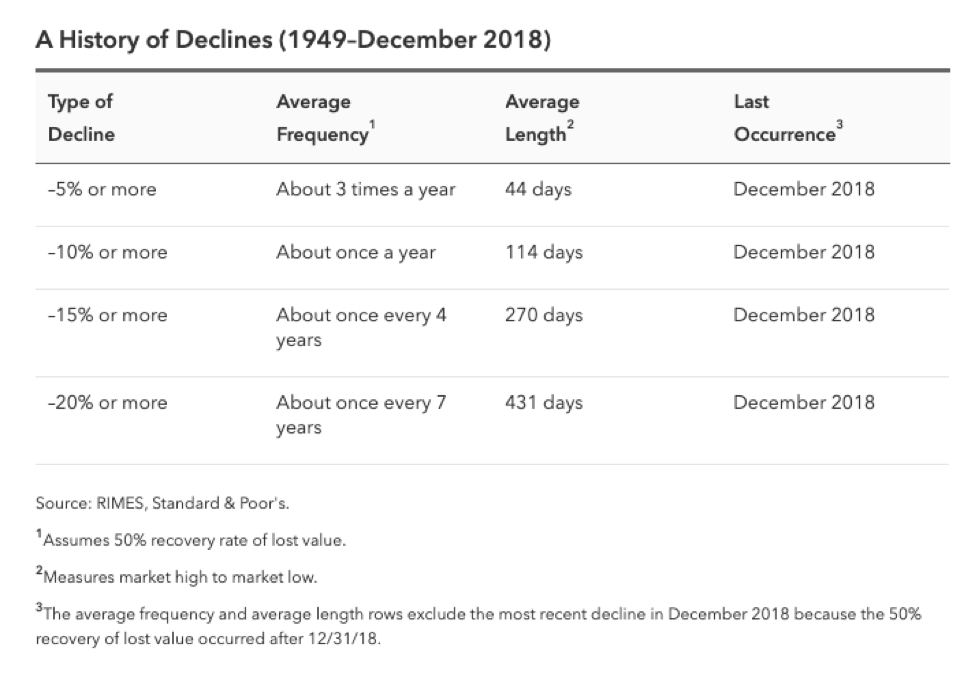 Understand How Markets React
We simply do not have enough information yet to know how the coronavirus will impact the economy in the short and long term. It's possible that the virus will soon be well-contained, and the markets will recover. But it is also possible that the virus will spread and impact global markets, which could lead to a full correction or even a longer-term recession.
It's important to remember that the market is pricing in information immediately and it is virtually impossible to predict how investors will react as more information is received. As we have seen this week, news travels very fast and by the time you hear the news and try to react, the markets will have already priced that information into the price of stocks. In addition, there are likely other events effecting stock prices, such as an upcoming presidential election or something completely unknown. We just don't know.
Stay the Course
While easier said than done, successful long-term investors know that it's important to stay calm during times of high volatility and fear. The media can often make it seem like each world event is worse than the one before, but that should not affect your plan. Once one crisis is over there will be another. In reality, volatility does not hurt investors, but selling when the market is down often does. Markets are extremely efficient, and they can recover just as quickly as they decline. So, if you sell you may not only lock in losses and miss a rebound, but also create taxes which will further decrease the value of your investments.
Remember That Your Portfolio is Based on a Plan
We understand that volatility and market declines are stressful. However, we encourage you to keep in mind that while the stock market may be down significantly, your portfolio is based on a plan that is designed to help you reach your goals. Your portfolio is well diversified and made up of stocks, bonds, and other assets that are designed to work together to decrease overall losses. It's important to consider your specific portfolio, investment horizon, and circumstances when reflecting on economic events.
Review Your Plan
If you are really worried about the effect of the market and having trouble sleeping, now is a good time to take a look at all of your investment accounts to make sure you are still on track and your risk tolerance is in line with your expectations. There is a chance that the swings in the market have reduced your exposure to the market as a whole and you will need to rebalance in order to capture the returns necessary to reach your goals.
Look for Opportunities
Instead of looking at the glass as half empty, turn it around and look for the positives. Capitalize on opportunities to recognize losses, which can save big on taxes, maximize your retirement contributions to make purchases while companies are on sale, and if you are lucky enough to have cash on hand or have just received a bonus, use the funds to rebalance and buy low. Consider converting IRA assets to Roth IRA's and capture the rebound in a tax-free account. These are just a few ideas you may want to consider
Speak with Your Advisor
Whether you're new to investing or an experienced investor, it is always helpful to have someone to talk with and an independent, fee-only fiduciary advisor is a great place to start. Human nature causes us all to act out of emotion when times are tough and tensions high. This is the time when a good advisor earns his or her keep. Reach out to us any time to review your portfolio or just to vent. We are here to help you make informed decisions that are not driven solely by emotion.
Call us or email us any time to talk or to set up a time to meet and review your plan. This is what we are here for and we welcome the opportunity to answer your questions, address your concerns, and try to alleviate some of your stress.
This too shall pass!